Lily: the champion pit BULL!
by Bridget
(Baltimore, MD, USA)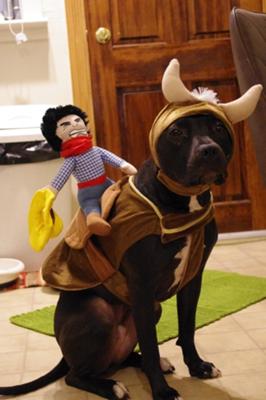 I'm Lily and this year I'm a Bull for Halloween! I am about 2 years old and I'm a very good girl. I was once a stray dog on the mean streets of Baltimore until my mom rescued me. My favorite hobbies are squirrel-chasing, sock-chewing, snuggling, and meeting new friends at the dog park.


Since I'm a Bully breed dog, I thought this was a perfect costume for me!! I want to buck the bull rider off my back and eat him!!
I should win because my mom says I'm a special girl.
Are you enjoying this site? Finding it useful?
Your donation in any amount can help us reach out to more people
who want to know the truth about pit bulls.


Thank You for Your Support!

Return to Pit Bull Homepage