Luna and Zues
by j dugas
(denham springs. la)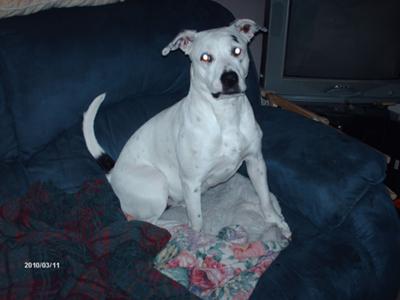 luna
Luna made 2 in january and Zues made 1 in october. Luna is a somewhat hyper wiggle worm but sweet as can be. Zues is deaf and one of the calmest dogs i've ever owned.


We also have 2 min pins and 2 cats (just one big happy family) Luna just gave birth to 3 pups on Feb 1st. and she is the best mama. She doesn't even care if the min pins are around her babies.
Zues will go in kennel and clean the pups when she's not in there. I grew up around bullys and have always had a place in my heart for them and plan to always have at least one with me
Join in and write your own page! It's easy to do. How? Simply click here to return to Pit Bull Pictures.
Are you enjoying this site? Finding it useful?
Your donation in any amount can help us reach out to more people
who want to know the truth about pit bulls.


Thank You for Your Support!

Return to Pit Bull Homepage