Mac the Pumpkin Pup
by Megan R
(Seattle, WA)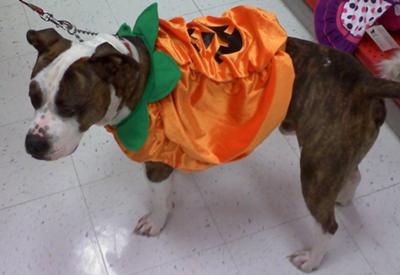 Mac the Pumpkin Pup
This is our wonderful boy Mac. He has many nick names we call him, Macka macka, Mac-a-doodle, Doo Doo, and Oodle. We got him when he was around 6 months.


His previous owners had a baby so they had to give him away. Ever since we took him in we couldn't have been happier! He brings joy to us every day!
When we took Mac costume shopping at Petco we knew the pumpkin was perfect for him. He doesn't like to wear clothing so we had to snap a picture fast! :) He is the cutest pumpkin ever!!
I think Mac-a-Doo should win because he has been our pride and joy from the moment we got him. We get compliments on him every place we take him. Also he would absolutely love to have an unbreakoball, because he chews up every ball he gets in 5 minutes! We love him and he deserves to win! :)
Are you enjoying this site? Finding it useful?
Your donation in any amount can help us reach out to more people
who want to know the truth about pit bulls.


Thank You for Your Support!

Return to Pit Bull Homepage