Meana - A Very Loved Pitbull
by Catherine Anthony
(Virginia Beach. VA)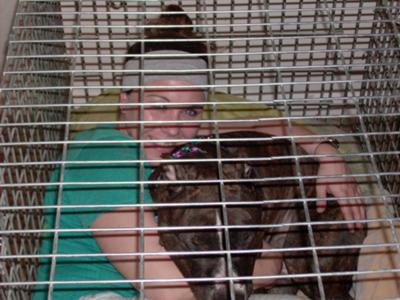 Behind Bars
(Click thumbnail to see full size image.)
She was a mean puppy and that is why we named her Meana...She means the world to us and I would go thru hell and back for her!
Meana is a 5yr old Pitbull and I met her through my boyfriend, now husband, and I have to say that she did NOT like me at first. She was very jealous and it was cute (I can laugh about it now), but she did not want me near her "daddy".
Whenever I would stay the night, she would intentionally poop on my side of the bed and she is 100% potty trained, and has Never used the bathroom in the house. She would make it a point to lay between us and lay horizontally to keep us farther apart.....now, that is MY baby.
I have spoiled her so bad that when I move, she moves. I couldn't imagine life without her and if something were to ever happen between my husband and I, there would be a custody battle from hell.....
She is so smart, and when she passes gas and we all say "ewwwww", she puts her head down in a shameful way and it is sooooo cute. We do everything together.
She sleeps with us to this day and we have been married for 2yrs. She is the most friendly dog and she has a super 6th sense and knows who is good and who is bad, and if you are one of the bad ones.....you better run fast because she will only warn you for so long.....what can I say? I love her and she deserves to be on this page. Thank you!
Click here to read or post comments
Return to Pitbull pictures archive August 2010.
Are you enjoying this site? Finding it useful?
Your donation in any amount can help us reach out to more people
who want to know the truth about pit bulls.


Thank You for Your Support!

Return to Pit Bull Homepage