More than one bully here!
by Tiffani
(Michigan)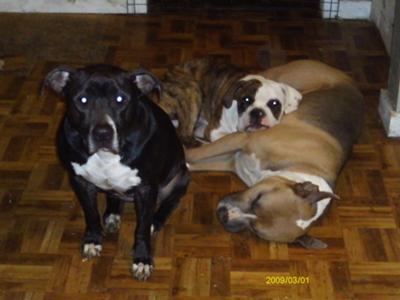 Chaus (blue pit) Shady bear (brindle bulldog) Momma Cita (Black Pit)
(Click thumbnail to see full size image.)
I love the Bully Breeds! I have way more then one dog, I also have 2 children (4 and 9) that they are great with, also 4 cats and never had a problem. (Besides trying to sit on the couch when they are all piled up) The biggest babies I have ever had! I would never have any other breed than the bully breed! I have taken most of them in off the streets! Best family pets ive ever had!
Return to Pitbull pictures archive August 2010.
Are you enjoying this site? Finding it useful?
Your donation in any amount can help us reach out to more people
who want to know the truth about pit bulls.


Thank You for Your Support!

Return to Pit Bull Homepage