Mr Earl Grey - From Rags to Riches!
by Michelle S.
(Toronto, ON)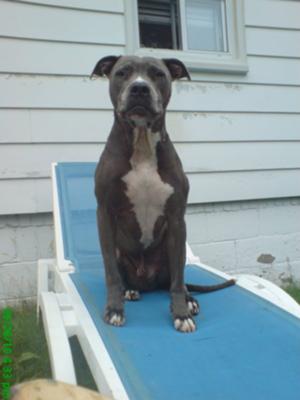 Earl Grey - Distinguished Gentleman
My name is Earl. The first 8 years of my life are relatively unknown to my "mom". I wish I could tell her where I've been. Actually, on second thought, I don't think she'd want to know.


What little history she does know is this...I was left tied up outside to freeze to death in November, in frigid Oshawa, Canada. I had frostbite on my tail and ears. I was very cold and hungry. I had no meat on my bones to help keep me warm. Some say I looked like a skeleton with skin...scabby skin. I didn't really have much hair either.
Fortunately, one day a van came and picked me up. They took me to a warm place, where they fed me and gave me a warm spot to sleep. I've heard this place was called a "shelter". I turned on my pit bull charm and the ladies loved me! I was a shelter favourite! Bad news... As charming as I was, I was not going to be put up for adoption by my shelter, partly due to all my skin conditions and also due to my breed.
Good news...I would be released to a rescue organization and get to go to a place they call a foster home! I had heard wonderful things about foster homes and was very excited to start my new life.
After 3 months recovering at the shelter, it happened...a nice lady from Bullies In Need came for me. She told me I would be going, not to a foster home but a REAL home, right away! She said a nice lady she knew was looking for a handsome gentleman like myself and I sure did fit the bill!
I was so excited to meet my new family. I arrived at my new lady's house in January, 2009. First thing she did was give me a bath. I admit, I was kinda smelly.
After she dried me off and gave me a treat for being such a good boy, we went for a long walk. She even had a warm coat for me. That night, we snuggled on the couch together. It was the best sleep I think I have ever had in my life! Was I dreaming? Nope! I was home! A real warm, safe home with people who loved me - finally!
I have been "home" for almost 2 years now and my "mom" doesnt do much without me. I'm her right hand man! I go to work with her everyday. Not only do I go to work but I have my very own job too. I got a modelling gig for mom's collar bizz and have recently been added to istock photos. Really? My mug up for sale? Yep! My mom tells me I'm handsome and now I know, it must be true!
My life since finding my forever home has been full of adventure! I've travelled. I've learned how to swim and played in the ocean down in South Carolina! I've also gained a pretty cute little housemate. An itty bitty little deaf pit bull girl. We love her!
I love my home and I love my family. The one thing that I do have to deal with on a daily basis and do not love is Breed Specific Legislation. A sweet dog like me shouldnt need to worry about such things but our government has decided that I am dangerous...imagine...me...dangerous????
Mom has to put a this horrible thing on my face everytime we leave the house called a "muzzle". I hate it! I know though, that there are some very dedicated people out there that know the truth and are working hard so my fellow pit bull brothers and sisters and I may one day live free in Ontario! That would finally make my now wonderful life 100% complete!