Mrs. Marley, My Buddy
by Mark St.Ament
(Norco, Louisiana, USA)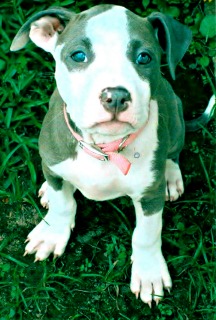 Marley as a puppy
Marley is a Blue Pit and she is about 4 years old now. She loves to play Frisbee in her big backyard. She is a very sweet and loyal friend to me.


She stays inside with us, her 2 cat friends and her good friend Vegas(another dog). We had her since a puppy and she has always got along with the cats and the other dog.
She is full of energy and always wants to go outside and play Frisbee( I mean ALL the time...lol).
Are you enjoying this site? Finding it useful?
Your donation in any amount can help us reach out to more people
who want to know the truth about pit bulls.


Thank You for Your Support!

Return to Pit Bull Homepage