My lil-gentleman, SYRUSS
by Tamara Davis
(Vic )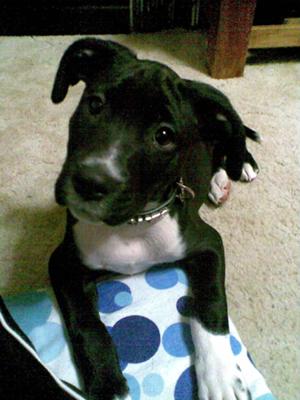 look in 2 his eyes n tell him why
(Click thumbnail to see full size image.)
WELL it's by luck that i got my lil-man (syruss). About 4 months ago my best friend's dogs had puppies n she gave me pick of the litter. When I walked in his lil white paws where sooo cute n that face. How lmao, he was the 1 came running at me not even walking properly yet. And sat at my feet (he had picked me .........(hear is a poem I've got 4 my lil-p-b syruss.....(i hope you like it 4 u my p-b bully..........
"you made what i am 2day.
courage at it's best.
you wanted me 2 know no fear,a cut above the rest.
not only did i master that,i've thrown in loyalty,too.
look past my eyes into my soul,
u no i'd die 4 you.
i'll watch your kids,i'll watch your house.
and your praise will be my crown.
ask,what you will,i'll do my best.
i'll even be... your clown.
but some of you don't like me,
i'm sure i dont no why....
The only thing i'm guilty of is COURAGE,LOVE,AND TRY.
but still they want to see me go,
they want my breed to end.
will i see you sitting idly by?
You,whom i call a friend?
You made me what i am 2 day,
You never seen me waiver,
i've done my best 2 keep u safe won't you please return the favor?"
~Anonymous