My Pittieful Crew.
by Carla
(St. Petersburg, FL, USA)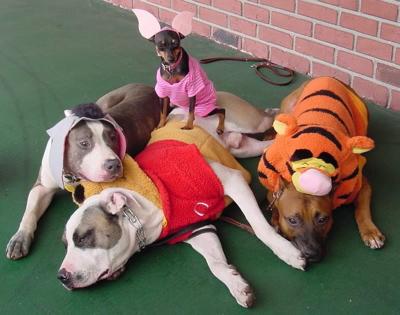 Like all bullies, my guys are complete clowns and thrive off of being the center of attention. They don't mind being dressed up, as long as someone makes a fuss over them.


My boys are true breed ambassadors. They have been performed many demos, at dog training and breed events; and have manned the kiss-a-pit booth at plenty of events.
They all have their AKC Canine Good Citizen Award, passed their ATTS Temperament Test Certification, and are certified Therapy Dogs. They are also a couple of the top titled American Pit Bull Terriers in the country, holding multiple titles; as well as, some national rankings in conformation, agility, obedience, rally, weight pull, and flyball.
Are you enjoying this site? Finding it useful?
Your donation in any amount can help us reach out to more people
who want to know the truth about pit bulls.


Thank You for Your Support!

Return to Pit Bull Homepage