My Pup VS. The Skater
by Mandie Dilligaf
(Ottawa, Ontario, Canada)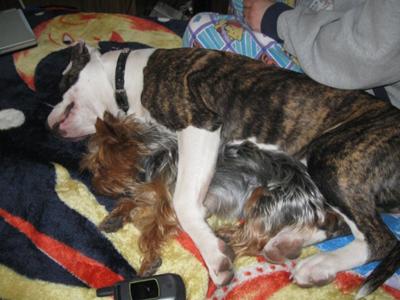 I have a 2 year old female pitty that I have had since she was 6 weeks old. I was out walking my puppy, as always I attach her leash to my stroller. As we were heading towards home, a younger teenaged fellow came flying by on his skate board. My puppy lunged at him and just missed his pant cuff.


I knew from past experiences that she didn't like people skate boarding. I am not sure what it is, she is okay with just a plain skate board as long as no one is riding it, and I have also had people that she had just seen skate boarding come to her, and she licks them to death. As soon as the two are combined and in motion, it's too much for her and she gets a little tempered.
She has no aggression to people, small dogs, big dogs, cats , kids nothing just this skate board thing! What do I do to help her reaction when we do see a skate boarder on our walks?
Gale's Reply:
Hi Mandie:
If you really want to tackle this problem, I think you'll need to enlist the help of some of your skate boarding friends. Ask one of them to meet with you to work with her so that you can set up different scenarios for her to master.
Start with something benign that she already tolerates well like a person carrying a skateboard. Treat her for maintaining a calm, friendly disposition.
Then amp things up gradually. Maybe you have someone stand on the skateboard, but not moving. Then moving by slowly or perhaps from a distance away. Gentle curiosity or indifference should be rewarded along the way until she's pretty much immune to people whizzing past her.
Expect this to be a project that requires repetitions while she's learning. And, expect a learning curve for yourself as well. An excellent book that will show you how to properly construct a series of successive approximations and teach her to master each one is
Click to Calm - Healing the Aggressive Dog
.
In the meantime, realizing her sensitivity to random skate boarders, you may want to walk her on whichever side is closest to the edge of the path. In other words, put yourself between her and any oncoming "traffic" that might cause her to feel threatened.
Good luck. Feel free to post back and let us know how things are going.