My pups, my world, my reason for supporting the breed....
by Danielle M
(Mt. Sinai, NY 11766)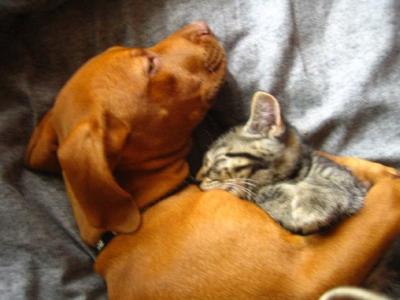 Daisy and her cousin Charlie the cat
When I first met my boyfriend I was a "cat person". He told me he had a pit bull named Blue (a blue brindle). I was concerned with meeting Blue. The moment I did, he had me wrapped around his blue-brindle paw.


At this point, Blue was an older pup, roughly 11 years old (human years). My boyfriend and I decided to get a red nose puppy together to add to our family. Her name is Daisy.
Blue's health started to decline, his gait was unsteady and eye sight was deteriorating. This did not change his amazing personality that "had me at hello".
In fact, he seemed to be the same Blue I knew. Nor did it stop him from warming up wonderfully to our new baby girl, Daisy. They were inseparable. Blue was her teacher and protector and I couldn't be more proud of Blue's impression on her.
My boyfriend was about to lose his best friend, his rock, that has been by his side for 12 years. BUT we decided to add a brother to the mix. His name is Levi, and he is said to be a "chocolate-blue" pit bull. (For descriptive purposes, I would say his coat is, depending on the light, a Khaki-green color, but can change in sunlight.)
Once again, Blue dog opened up to another rambunctious puppy. At this point Daisy was over age 1, Blue was approaching his 13th year, and a new 4-5 month old (Levi) was following in Blue's steps. I was concerned with the work involved with another puppy but once my man said "I wanted Blue to meet his brother before he leaves us" I knew the work involved meant nothing and I would do everything and anything for them, including my man.
Four months later Blue could no longer walk or hold his bladder and/or bowel, not to mention his eye sight was more than diminished. His time had come so we took him to the doctors.
I kept telling myself that I needed to be the strong one no matter how much this hurt ME. This was my boyfriends ROCK, best friend, brother, son, his world for 13 years and it would be selfish of me to break down when I needed
to be there for him and Blue.
I was strong, until the moment came at the vets office and I screamed "NOOO, I love you Blue" (I am crying as I type this). Blue slowly closed his eyes, we said goodbye, and didn't say a word on the drive home. This was truly one of the hardest things I have ever been through, and only knowing Blue for 2 years, my heart was also breaking for my boyfriend who just lost his best friend of 13 years.
Blue was an outstanding dog, and a true " ambassa-bully". I love to see what he taught Daisy and Levi, and every day I see a little of Blue in both of them. These dogs have touched me so deeply. All pits have. I am broken everyday when I do a little research on the breed.
Shelters are 90% full with this (pit bull) breed. Reports of abuse are almost always pertaining to pit bulls. (On Long Island New York, there was a recent arrest for animal abuse because of a rescue of 20 pit bulls in cages stacked upon each other, abused, neglected, scarred, and sick) And we all, pit bull lovers or not, are well aware of fighting the breed.
EDUCATION to the public is what we need so I ask all the pit lovers on here and around the world to stand up for your breed, volunteer anywhere, especially places over populated with pits, and educate the public by showing your breed in public as a well behaved socialized pup who is all love and kisses. Blue changed me, now I work on advocating, loving, and supporting the breed. Again, they are my world and I'm am unapologetic for it; I am PROUD.
In the meantime, I am posting some photos of my babies. The red nose with the cat is my girl Daisy. She loves all animals and is so well behaved. I am so very proud of her. Levi will be the other dog in any photos unless otherwise stated. Again, he is a "chocolate-Blue". A color I never knew existed until my baby boy came into my life. I don't have photos of Blue on my computer so I will post some at another time.