MY SWEET "MOO MOO COW" KANGO, THE LOVE OF MY LIFE!!!
by Linda Novoa
(Jackson, NJ)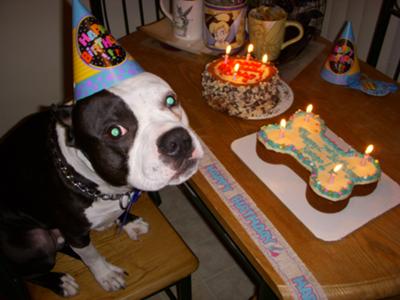 KANGO'S 2ND BIRTHDAY
Back in 2008, my boyfriend was dead set on getting a pit bull and I immediately opposed it. "Absolutely not!" I said to him. However, he did not listen. He continued to search the internet for the one he wanted and soon after found him. I refused to even look at the dog's picture and continued to say no.


So one Saturday evening my boyfriend calls me and says "I bought him." And I was extremely upset. Though I have always been an avid dog lover, I told him that I wanted absolutely nothing to do with this pit bull. I went on and on about how I wasn't even going to pet him.
Long story short, my boyfriend comes home and said "He's here." And as I was laying on the couch facing away from them I went on to say how I don't care, but eventually the curiosity killed me and I turned around...
When I turned around I saw the cutest puppy I had ever laid eyes on. He was only 7 weeks old. For some reason I was expecting to see a beast walk through the door.
He was completely off balance and wobbling all over the place. I sat down on the floor next to him and caressed him and stayed there for about 2 hrs. just watching him sleep. I fell in love with the little guy and soon after became obsessed with him. My boyfriend decided to name him Kango.
Fast forward to 2010, I have throuwn him 2 birthday parties. (He's now 2 1/2 years old.) I created his own Facebook page (Kango). I purchased pet insurance. I bathe him twice a month and I carried my 50 lb baby in my arms up and down the steps during the winter so that he wouldn't get any salt in his paws. He became my little child and I am
utterly in love with him.
Kango loves to lay around. Yet he's always in the mood to play. You would think a pit bull would want rope toys and tires, but not him. He loves fluffy toys and has a thing for socks. His funniest trait is that he sighs a lot. He does it about ten times a day. He also makes pig-like noises--lol!
He adores attention and is extremely lovable. The minute someone walks through our door he goes into his basket of toys and brings them one. He has won over every heart that has encountered him.
My Kango baby has become the love of my life. I kiss him about 50 times a day. However, every now and then when I do so, my boyfriend looks at me shaking his head and says "But you didn't want him". He teases me constantly about that I know I will never live that down.
Kango has taught me that the pit bull stigmas are truly sad misconceptions and that one should not judge a dog based on its breed. Ultimately a dog's temperament is a reflection of its owner. If you train you dog properly, raise him well and love him unconditionally, you should have no problems.
Ironically, I am now a pit bull advocate. I feel you get the best of both worlds. You feel protected in their presence because they're extremely loyal to you and yet they are little softies that give such unconditional love.
It is truly sad to see how this wonderful breed is depicted in society. I hope more and more people open their hearts to pit bulls and give them the love they so deserve.
To know me is to know Kango, A.K.A.Piggy Boy, because he is a major part of my life and I simply adore him. I cannot begin to fathom life without him. I love you Kango!!!