My Toby
by Jutta Blackwell
(Texas)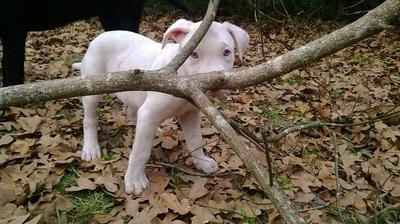 I love my little buddy. I felt alone and sad and wanted a dog to give me unconditional love.


Someone was giving away a Pit Bull puppy and I decided I wanted him. (My son has a pit bull and he is sooooo loving).
I have no clue (yet) how old he is, or what type, but he sure has made me a happier person. He cuddles up with me every night, loves to give kisses, and out of all the dogs I have had, was the easiest one to be housebroken.
I wouldn't not give him up for anything. He is a happy little puppy and made me a happier person. I just love him to death.
Are you enjoying this site? Finding it useful?
Your donation in any amount can help us reach out to more people
who want to know the truth about pit bulls.


Thank You for Your Support!

Return to Pit Bull Homepage