Odyssey, a Pit Bull in Las Vegas
by Heinz Lauer
(Las Vegas, NV)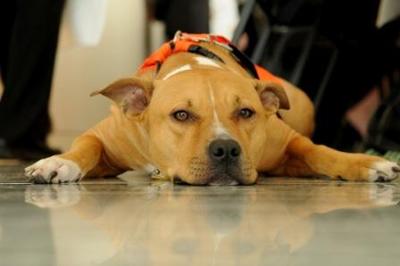 Attending a formal dinner with 30 VIP's
Odyssey didn't have a name when she ran to my wife in a strip-mall. A heartless person pushed the then four-month old female puppy out of his truck in a parking lot and drove off.


My wife was just locking the door of the shop she manages and being the only person around, the dog ran up to her and loved her up.
My wife called me and told me that she had a really bad day and, by the way, she'll be bringing a dog home (we have four cats).
I opened the passenger door when my wife drove up to the house, and out jumped the puppy. She ran a circle on the drive way and rolled over in front of me wanting a belly rub.
This was the beginning. Now she is almost three years with us and on the way to getting certified as a therapy dog.
Are you enjoying this site? Finding it useful?
Your donation in any amount can help us reach out to more people
who want to know the truth about pit bulls.


Thank You for Your Support!

Return to Pit Bull Homepage