One Love
by Holly
(South Sioux City, NE)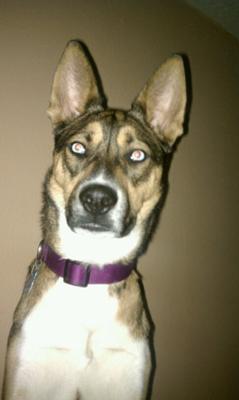 Doejah *on her 1st birthday*
Roscoe and Doejah are my babies. He's 5 1/2 months old and she's a year old and they're both super smart! I have always wanted a pitbull but due to the bad rep they sadly have, my parents always turned me down on the big goofy faces kissin me through the cages at the animal shelters.


I've always stood up for the breed and when my boyfriend and I decided we wanted to get a dog we went straight to animal control. As we were looking through the cages we came across a litter of 7 week old Husky/GermanShepard/Pitbull mix, and one little blue eyed girl, we named Doejah, came up to us and we knew right then and there that she was the one for us.
We took her home and she's been the love of our lives ever since. About 6 months later i talked him into letting me look for another puppy. I went straight back to animal control and they showed me a collie mix but he just didnt seem right for us.
As I was leaving she asked me if I liked pitbulls and of course I said I love pitbulls! She opened up a door and out comes this huge 6 week old, tan and white pitbull puppy with a little black spot on his red/black mixed nose! I was in love.
I brought my boyfriend to see him when he got off of work. She let him out again and as soon as my boyfriend saw him he picked him up and said your going home with us!!! I was so happy I had a beautiful pitty mix and now a purebred pitbull puppy!
I am currently searching for a job at the moment so I'm home with them all day. They go everywhere with me. They're very protective too. My neices are over here all the time and Roscoe and Doejah just love them to death! Those girls (2&4) can do anything they want to those dogs and they just go along with it and shower them with kisses afterwards.
If they cry, Doejah is in their faces licking away their tears until they stop crying. My two babies always seem to know when I need them too. You can find them at my side at all hours of the day. They're my guardian angels and I would do anything for them!
I advise anyone that wants a breed of dog that would be happiest just to be by your side everyday, to get a pitbull. I will not own another breed of dog. I will always have a pitbull by myside from this point on!