Our "flesh-eating" Pit enjoying a day at the beach...
by SunnySouthTexas
(Sunny South Texas, USA)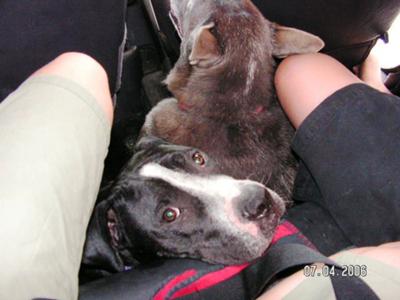 Jeep Back Seat containing 2 dogs and 2 teenagers... Snug.
Turbo is the sweetest of dogs. Too bad so many people see him as a "flesh-eating Pit" instead of the wonderful family member that he is...


Here he is stuffed in the back seat of a Jeep (they are small back seats!) with his Auntie Pewter, his owner Tink, and Tink's friend Drew... to spend a day at the beach playing in the surf!
Are you enjoying this site? Finding it useful?
Your donation in any amount can help us reach out to more people
who want to know the truth about pit bulls.


Thank You for Your Support!

Return to Pit Bull Homepage