Our Little Gracie Poopers The Red Nose Bully
by Kerri
(Arizona)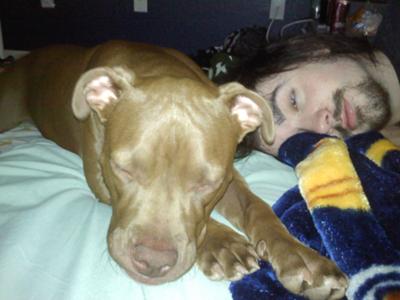 Gracie and her Poppy
(Click thumbnail to see full size image.)
Gracie's story started when my sister came to visit and brought this scared gingery colored puppy with her. Apparently her boyfriend had found her in an industrial area of a city with no homes in sight and immediately picked her up.
Now my sister and her boyfriend have a baby, who was still on bottles and pretty helpless. All Gracie wanted to do was lay next to him when they came to visit, not once getting riled up. I immediately took to her, gently petting her and talking to her (and coaxed her into relaxing with a few pieces of ham).
My sister had wanted to keep her but just couldn't with another dog in the house as well as a baby so we agreed to take her in.
The history with my family is that we can't seem to keep a dog for too long, but that's not the case at all with my Gracie Poopers!
After deciding her name and getting her bathed she became my little bed buddy! She apparently was a tad skittish around my sisters boyfriend but took really well to mine while he was visiting from out of state.
She's such a lazy little thing! and LOVES attention which was VERY obvious when I took her for her first trip to Petsmart and got nothing but "oohs" and "aahs" at how pretty and sweet she is. All I heard from people were stories of how sweet their OWN pits were and are.
One of my mothers coworkers has pleaded with my mother to keep her despite her puppy antics of chewing and digging because she loves her own
pits so very much. I personally have never really had a fear of Pit Bulls because I KNEW it wasn't their fault they're aggressive and I KNEW that if I showed Gracie love and compassion she would return the favor.
We found out from a trip to the vet to see if she was chipped that she was a 3 month old Pit Bull and the vet tech wanted her so badly! But here we are now, 3 months later at about 6 months old, with my boyfriend having moved in. She's got her mommy and poppy and has decided to be our little bed hog. She's spoiled with cuddles, kisses, all the napping she wants and a family who only wants the best for her.
She's such a sweet dog and anyone who says this is a vicious breed has never met our baby girl and if they do, I KNOW they'll change their minds. Just a trip into the garage or even taking a shower and she's waiting at the door and so happy to see you again! If I leave the room odds are she's following right behind me.
She greets us home with big happy eyes and not only wags her tail but her whole tush as well! If you come home and don't pet her right away she will bark at you until you do! She recently learned to fetch and is LOVING it, she gives high fives and is even a little scared of my pet rats.
She still has a ways to go with some training and maturing but I can't wait to see our baby girl grow up and make her mommy and poppy proud.