Our Pit Bull Jayden.
by Serena Morris
(Sudbury Ont, Canada)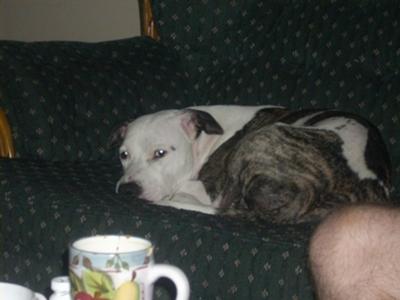 (Click thumbnail for full size image.)
Hi there, our names are Todd and Serena, and this is the story about our pit bull Jayden...We first met 18 month old Jayden in 2006 while visiting a friends house... He had three beautiful pit bulls, 2 black and white and one white and brindle.
One day he said he had to find a home for one, so Todd said he would buy her for $100 because we loved her temper and her marking but what sealed the deal for us is when we heard that Jayden had been beaten with in an inch of her life. "15 minutes longer to the vet and Jayden would be dead right now" the vet told me when I took Jayden in for her first check up with me. I was shocked how could anyone do this to this loving kind dog? not our friend, but who he had gotten the dog from, an M. Brown, just so were not naming full names here and her boyfriend had beaten Jayden with everything in reach... well not any more this is our dog and we will love her with all our hearts:D.
Within the first few hours we had Jayden, we took her down to the Moira river downtown Belleville to play in the water, she loved it except the fact that she has to keep her muzzle on due to laws and being downtown. After a few minutes of running threw 2 inch deep puddles, she ran over a puddle that was about two feet deep or so going completely under water for about 6 second. Ever since she just
does not like the water, but the again would you?
Everything was good the next day, no urine or feces anywhere so that had to be a good sign, right? so I took her outside and I was walking her and all of a sudden the leash slips out of my hand as she is pulling it to run after a bird... once she got going, she would not stop for me at all, after almost being hit by a car, my mom grabbed her (she just happened to be walking across the street at the time).
At the point I was pretty upset with Jayden and by the time we got home and everything was settled we were offered to go to dinner at Todds' brother's house, we were assured we would be getting a ride home that night, so we left at about 4pm to travel from Belleville to Foxbourgh (about 30 min drive) had dinner and when dinner was done we were stranded, no way home, everyone saying "sorry guys"...
Well sorry didn't cut it! We had a new dog at home. By the time someone drove us home, Jayden had been home alone for 17 hours straight... NO URINE OR FECES IN THE HOUSE!!! I couldn't believe it.... right then and there I knew we had a good dog and it grew to a loving friendship and she goes outside regularly, and never runs away :D
Our pit Bull Jayden is now 5 years old and is loving every minute of life as we do with her around... she is gentle, kind and loving and I could not imagine her hurting anyone.