Peanut the Pit Bull AMBASSADOR
by Norma Jean Carico
(Galax, Va.)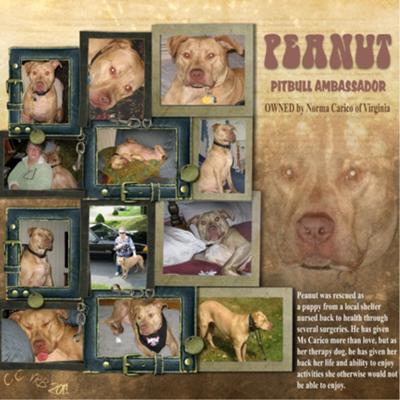 I have a URL on The Proper Pit Bull where I posted about my Peanut I rescued from a kill shelter....4 years ago. I am proud to say he is a healthy, loving and sensitive to my needs dog.


I LOVE Peanut with all my heart. As big as he is, he still cuddles in my lap, gives me lots of kisses, licks my tears away....well, just more than I can tell.
Peanut is also my Mobility Dog now. He has a service vest BUT because of my physical problem I have had for 12 years....we do not get out much.
If anyone EVER wanted to rescue or adopt a dog.....I highly recommend a Pit Bull. I will never have another breed. I love ALL dogs and have had many different breeds in my life, but NOT ONE can top Peanut.
The pictures I posted is of a collage a friend on Facebook made of Peanut and she entitled him the Pit Bull Ambassador.
The next picture is of Peanut and a family friend sharing in a FUNNY joke !! (Actually, Peanut had just yawned). You pit owners know how those alligator yawns look. lol
Just reporting in with new pictures of Peanut and a update on how my precious baby is doing. Yeah, this old grandmother of near 64 LOVES her baby !!
My first URL is
http://www.the-proper-pitbull.com/peanutthe-wonderful-pit-bull-god-sent-into-my-life1.html
Join in and write your own page! It's easy to do. How? Simply click here to return to Pit Bull Pictures.
Are you enjoying this site? Finding it useful?
Your donation in any amount can help us reach out to more people
who want to know the truth about pit bulls.


Thank You for Your Support!

Return to Pit Bull Homepage