Pit in Sheep's Clothing
by Angie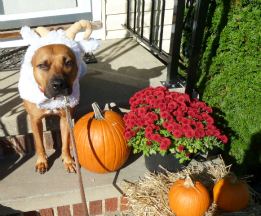 Bones is everything an American Pit bull Terrier should be. He loves people as though everyone he meets becomes an instant best friend, aims to please and acts like a clown to make us laugh.


Bones was rescued from an irresponsible owner. He was only about 6-7 months old when I met him. He had jumped off a second story porch after being sick of being left up there day after day. Thank goodness he was not hurt.
I met him that day and I remember thinking
"this dog is the most affectionate dog I have ever met and he doesn't even know me"
It was love at first sight for me. The funny thing is I didn't even know what breed he really was.
I spoke to the owner about ways to help, he finally said he was moving and had to get rid of the dog. I took him in even though we already had 2 dogs, I thought I would take him to find him a good home...he jumped in my car like he had been mine all along. Never thinking twice or looking back. Bones is now 4 years old, safe and sound.
Since his rescue, I did my homework and became familiar with the breed. I have been fighting for the breed ever since, helping educate people, and volunteering time at a local shelter...and of course showing Bones everyday how much he is loved and appreciated. These dogs give you back 100% of what you put into them.
I couldn't ask for a better dog, and he probably could not ask to be loved anymore than he is.
Are you enjoying this site? Finding it useful?
Your donation in any amount can help us reach out to more people
who want to know the truth about pit bulls.


Thank You for Your Support!

Return to Pit Bull Homepage