pittie piggie
by jeanne gray
(pittsburgh,pa)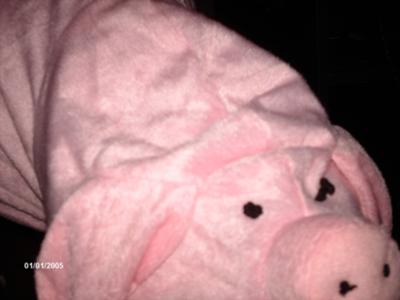 my lil pittie piggie
I got my (daughter) Nyla Grace 2 1/2 years ago and she is the best dog. I have m.s. and she's been a therapy dog for me she's there when i need help getting up, getting my shoe's and her leash when it's time for her walks. And not only does she help me with my daily needs she's there to cuddle, listen and give crazy kisses.


I saw this costume and it fit Nyla perfectly so i had to get it cause she's definitely a little piggie she eats just about anything healthy. Of course, if your eating she's right there wanting her share.
I just don't believe my dog should win i think all the dogs here deserve to win ,especially dealing with us owners putting all these crazy costumes on them. But i will say this my dog has been right by my side and i couldn't ask for a better companion. She is a loyal family member and i love her dearly.
Are you enjoying this site? Finding it useful?
Your donation in any amount can help us reach out to more people
who want to know the truth about pit bulls.


Thank You for Your Support!

Return to Pit Bull Homepage