Pitty Bull, Bullish
by SANDY
(MARYLAND)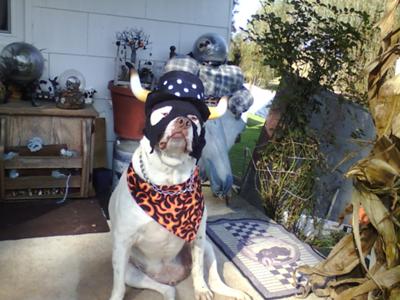 Saje (pronounced like Sage, but with a "j") is an 8 year old, 120# huggable smoochable pibble and a very wonderful, handsome loving funny pit bull. He loves life to the fullest and has a life that all pit bulls deserve.


Saje lives on a very large farm with his owners (Mommy and Daddy) and loves to dress up. The bullish costume, made of a gent's top hat with bull horns and a mask to keep you guessing who he is behind the mask. The idea behind the costume just fit him with his looks. I liked making this costume for Saje because it just was him. And he looks great in anything you dress him up as or in.
My Saje should be the winner because he is such a wonderful pit bull that gives unconditional love to the fullest and will do anything you ask of him. And he has a Mom and Dad that love him more than anything in the whole world and would do anything for him. We would take a million more just like Saje.
Are you enjoying this site? Finding it useful?
Your donation in any amount can help us reach out to more people
who want to know the truth about pit bulls.


Thank You for Your Support!

Return to Pit Bull Homepage