Pretty Boy Swag
by Crystal
(Columbus, Ohio)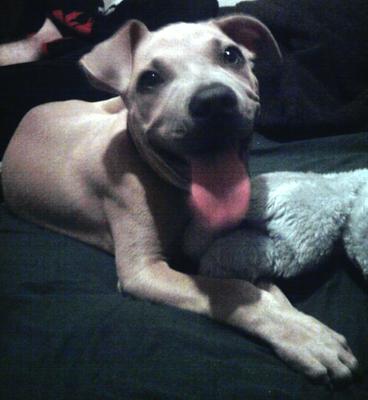 Cane & his baby
Cane is 15 weeks. We got him from a friend at 5 weeks. Needless to say, we weren't quite prepared for such a young puppy. He was so tiny!


He took to me as if I was his new mommy. He threw such a fit the first night we let him sleep with us. He was a good boy, so smart for a baby. He would lick or nibble your ear when he had to go potty. One night I was so tired from taking him out I didn't want to get up, I was peed on that night.
We had a big scare when he was 12 weeks. He got Canine parvovirus (parvo). For a week he was near death. Afterwards, I was told that they needed 2 more booster shots, after the first.
With a lot of love and care, he made a full recovery, from home. We gave him chicken broth for nutrition and Pedialyte to keep him hydrated.
Cane is very lovable and supper smart. I have three kids and besides the occasional knocking over, he is great with them.
His first walk was comical. He knows he isn't allowed to go down the stairs. When we were trying to walk him, he didn't want to go down the stairs. I took the lead and he followed his mommy down the road.
We hit another little snag when we got to the corner. He knows he can't go in the road, so we just about had to drag him. By the time we got back home he had it down. He was even excited he got to go further then the yard.
I must admit I was a little afraid of having such a big dog around my kids, nothing personal against the breed. I just know these little guys have a lot of power, even when they are puppies.
I am so happy we got him. Couldn't ask for a better dog!! He is definitely part of the family, like one of the kids.