Rebel Ace
by Brittany King
(Nicholasville Ky.)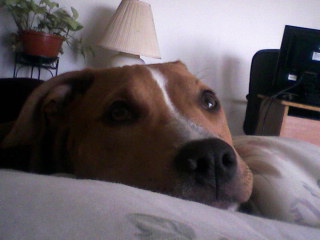 I have a Jeep pit his name is Rebel Ace and he just turned 1 yr. on dec 1st. Rebel had came into my life last feb. a month before that i had lost a dog and Rebel helped my broken heart and still continues to mend it.


Rebel loves to be my cuddly lap baby i adore him so much and don't know how i would live without him. My family has owned pit bulls since i was a little kid..i just think it's a great breed and also a very misunderstood breed.
Me and rebel love playin with his basketball together and also running :) Rebels best qualities are that he is very smart and super loving :) My pit bull has me wrapped around his paw. p.s. mommy loves you Rebel..
Are you enjoying this site? Finding it useful?
Your donation in any amount can help us reach out to more people
who want to know the truth about pit bulls.


Thank You for Your Support!

Return to Pit Bull Homepage