Red Nose Pit Bull - Morgan
by Jason
(Stockton, CA. USA)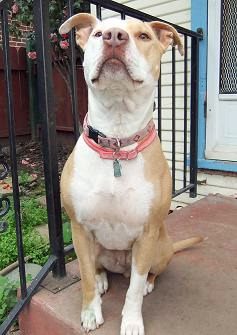 (Captain) Morgan
(Click a thumbnail to see full size image)
This is our full breed red nose pit bull. Her name is Morgan. Her name came inspired from the alcohol that we all know as Captain Morgan rum. My wife and I paid $100 for her 3 years ago on Valentine's Day when she was an 8 week old puppy. We would of paid more for her, and almost did. We adore and love her so much, and the feeling is mutual.
Morgan enjoys chasing birds, and sometimes just the wind blowing through the trees will trigger a chase around the yard. She loves playing fetch with her little plastic toy balls, although she won't always give them up when she gets a hold of them. She likes to tease us with the balls so that we end up chasing her as she darts around the yard. Sometimes she will even try to hide the balls in the bushes.
She also enjoys playing a little tug of war with her toy rope. And she likes to play hide and seek, or a run and seek I would more or less call it, with some of her other pet toys with our two boys, who are 5 and 6 years old.
When somebody rings the doorbell, she will bark ever so loudly. But, as soon as the door is opened, she crazily wags her tail and is extremely ready to play.
She absolutely loves going for walks. As soon as she hears her dog leash jingle, she immediately runs up and lets me know that she is ready by pushing her red nose around the leash and sort of nodding her head in a motion for me to put the dog leash on her already. We will sometimes just walk around the neighborhood, or go to the school yard when school is not in session and just let her roam as free as she likes.
Cute things that she does? When it's snack time or if she wants something like extra attention, as if she doesn't get enough already, she will sit and hold her paw out for hand shake. But, the neatest thing is this. She can dance. If we hold up a treat, she will stand straight up on her hind legs and twirl around. Usually only once around in a 360 degree motion, but occasionally twice.
Well, that's about all for now. Before I go, I gotta ask, do you have a little captain in you?
Thank You.