Find what you're looking for faster. Use this site search.

Red Nose Pit Bulls
Are you fascinated by red nose pit bulls? If so, you are certainly not alone. The red nose is perhaps one of the most popular and sought after types of pit bulls today.

Why all the fuss over the color of a dog's nose? That's a good question and an interesting story.

While some people just like the look of red nose pit bulls, there's also a bit of history woven into that red nose trait. Well over 150 years ago, there was a strain of fighting dogs mostly found in Ireland referred to as Old Family dogs.

In a social climate that did not restrict dogfighting in the manner it does today, a champion fighter could be worth a small fortune to its owner. Consequently, pedigrees were carefully guarded secrets. And, breedings mostly took place within a small gene pool of dogs owned by trusted associates and family members. It seems there was the notion back then that consistent in-breeding was actually a good thing because it kept bloodlines "pure".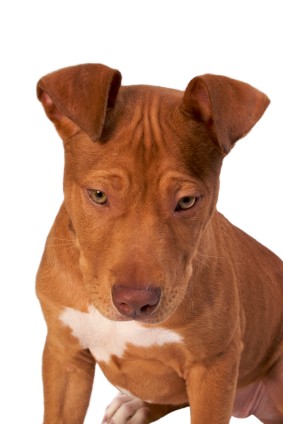 When repeated breedings are done within a closed gene pool, there is a tendency for recessive traits to come to the fore. Red coloration is recessive to all other colorings except white. And, by the time these dogs came to America they were not only showing red coats, but red noses, red lips and red toenails. Hence these dogs came to be known as Old Family Red Nose.

It should be remembered that the breeders of these dogs weren't trying to produce red nose pit bulls. They were interested in producing fighting dogs. And, they were so successful in their quest that the American Kennel Club (which has always stood adamantly against dogfighting) decided to disqualify any dog with a nose color other than black from being registered as an American Staffordshire Terrier.

Today, when someone tells you they have a red nose pitbull, they are almost never referring to the Old Family Red Nose line. While there are a few breeders who claim to be working with dogs descended from the OFRN bloodline, the breeding practices that were in vogue a few hundred years ago in Ireland would not be considered desirable now.

Today's red nose pit bulls are just that--pit bulls with red noses, a lot of heart and the typical nobility of the American Pit Bull Terrier.

Read about Blue Pitbulls and Blue Nose Pitbulls

Return from Red Nose Pit Bulls to Types of Pit Bulls

Return from Red Nose Pit Bulls to Pit Bull Homepage