Reunited After Three Years!
by Arianna
(St. Paul, MN)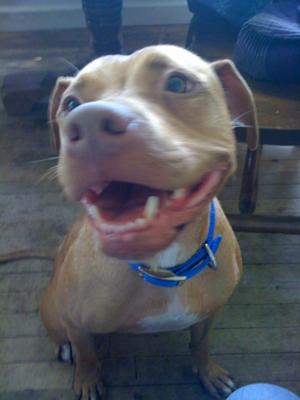 The happiest dog in the world!
This is Gucci. She's seven years old. I rescued her from a hostile living situation in Los Angeles when she was 10 weeks old and we were always together after that.


When she was 3 years old, I had to move back to Wisconsin suddenly (my dad had cancer). I had to make a difficult choice to leave her behind. I found a great home (I thought) for her, got her settled, and was an absolute wreck leaving.
Three long years later, I had lost touch with the people I had left her with until a surprise phone call. Gucci showed up in a shelter in Los Angeles, and, being micro-chipped under my name still, I was called. She was skinny, dirty and scarred.
One week, lots a phone calls, over $700, and a bunch of favors later, Gucci arrived at the MSP airport. She tumbled out of her crate and hit me in the chest, tongue first.
She's back to her healthy weight, experienced her first winter (she LOVES snow), and still sleeps under the covers with me. I have never been so happy as to have her in my life and I will never let her go again.