reyna my babygirl
by Bre
(Phx az usa)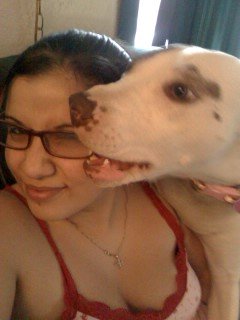 Me and reyna
My babygirl Reyna....was given to me as a stray 4 month old puppy. got her when i was 8 months pregnant. so she and my daughter grew up together...almost. Always hyper wanting to play or cuddle at night. Sadly her hyper activity was too much some times and the older dog didn't like it too much..which started a fight... i was forced to put her to sleep...i miss her everyday of my life...


Six months later i got a boxer/pitbull, Lil-lee (also a stray) who i had for only a short time (not even a month) before she was put to sleep for parvo. I sit and look at this site with everyone's happy pictures and happy stories to tell, and cant help but cry. i miss my girls.
Join in and write your own page! It's easy to do. How? Simply click here to return to Pit Bull Pictures.
Are you enjoying this site? Finding it useful?
Your donation in any amount can help us reach out to more people
who want to know the truth about pit bulls.


Thank You for Your Support!

Return to Pit Bull Homepage