SAJE
by SANDRA
(MARYLAND)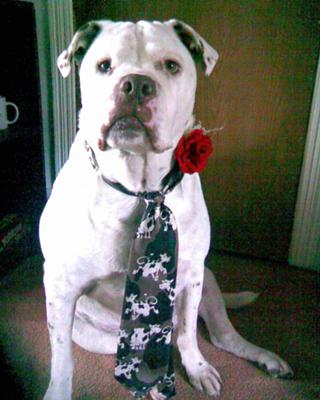 PIT BOY SAJE
Saje is an 8 year old male pit mix they say, and weighs 120#s. But definitely all bully. Loves to guard his home and family. Has lots of friends and a girl friend.


His Daddy and I adopted Saje at the age of 10 weeks old after falling in love with him 100%. And he fell head over heels for his new parents too.
Saje was thrown out into a ditch at the age of a few weeks by someone that just did not want him. So a farmer found him and took him to the Humane Society. He was brought to where I worked and we were told he was up for adoption or would be put down in a few weeks.
Well there was just no way I could let that happen. We made arrangements to go adopt him and bring him to his new home on a farm. He has the run of 200+ acres and lives life to the fullest. He loves long walks in the fields. Loves to chase any kind of critter that he sees but can't catch. All except for his very own cat named Froggy. They sleep together and share a lot together and truly care for each other.
Saje loves to ride in a wagon pulled behind a lawn mower. Helps his daddy load and stack fire wood. Tries to chase and catch the moon and hot air balloons. Enjoys food very much and loves to be a bum on rainy days. Plows through 4 feet of snow like a bulldozer. Will stand in the stream for hours trying to catch minnows and tad poles. Likes to dress up for different holidays. And just loves life in general.
Saje's most endearing quality is his love. It is a very true and a fulfilling love and he is priceless to us. we would love to have a million just like him.
Return to Pitbull Pictures Archive September thru October 2010.
Are you enjoying this site? Finding it useful?
Your donation in any amount can help us reach out to more people
who want to know the truth about pit bulls.


Thank You for Your Support!

Return to Pit Bull Homepage