Sasha
by Randi
(Astoria, Or)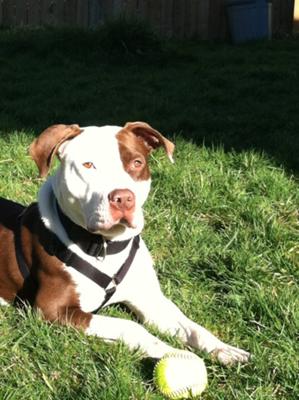 Sasha
We rescued our 4-5 year old Sasha girl from our local humane society. She has blended with our family so well including our cat Oreo that other people can not believe that we have not had her since she was a pup!!


She loves all of us, but really is a momma's girl!! My husband was sitting on the couch and I was on the loveseat...we were both asking her to come and we could see she was torn, the cutest thing happened next. My husband chuckled and said go to your mom and quicker than a jack rabbit she hopped up on my lap. (Did I mention that my 80+ lb baby thinks she is a 5lb lap dog?)
We love to take her to the beach and let her roam around chasing the surf and seagulls. She is so massive yet wants to meet everyone and love on them. You can see the look of terror on her new BFFs when she approachs. But within seconds they too are in with the licks and loves!!!
We love her and can not imagine how life would be without her in it. And the best part is, my Sasha girl knows she is loved and gives it right back to us!!
Join in and write your own page! It's easy to do. How? Simply click here to return to Pit Bull Pictures.
Are you enjoying this site? Finding it useful?
Your donation in any amount can help us reach out to more people
who want to know the truth about pit bulls.


Thank You for Your Support!

Return to Pit Bull Homepage