Scooby-Doo, a loving dog that anyone would be happy to have
by Heaven
(Springfield, Ohio, USA)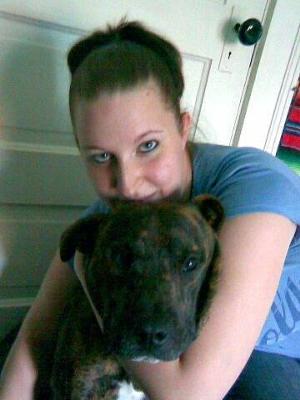 Scooby and me
(Click thumbnail to see full size image.)
I have a 1 1/2 year old pitbull named scooby-doo. I rescued him from this guy that was beating him like crazy.
He loves empanadas from Taco Bell and for that matter anything he can get his mouth on, except for lettuce, pickles, and onions.
The funniest thing he does all the time is when you go pick up the keys to the car, he follows you all the way to the door, and if you don't tell him to come on, he will sit there and talk to you...it is so cute.
Or even when you ask him to go outside, he will tilt his head at you and then sit in front of you until you get up.
Scooby and I enjoy talking walks in the evening when its not hot out, watching monkeys on animal planet...he will sit there and watch them and if they make noises on tv, he will bark like he's trying to communicate with them.
We also like to take rides to the drive-thru, so he can get bone treats from the workers there, and we also like to go through taco bell so he can get his empanada. But most importantly, we love to cuddle with each other right before I go to sleep. If I don't, he will whine my ear off.
The best quality that he has is it seems like the ability to understand what you are saying to him. If you tell him to go get his toy, he will get it and bring it to you. If you tell him to go outside, he will tell you by barking at you and then go wait by the back door. I love scooby to death. He is the best dog I have ever had. I wouldn't trade him for anything.