SIR GREYNOR
by LYNN
(UTICA, NY)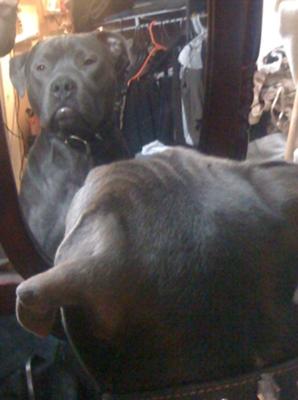 mirror mirror on the wall, who's the best bull of them all..
My name is Greynor. People call me Grey, Greynor Grayz or Sir Graynor. Personally I like Sir Greynor. It makes me feel important. I seem to attract a lot of attention where ever I go. I am a blue nose Pit & Lab mix. People always seem to stare at me and find it hard to figure out what kind of breed I am because of my unique look.


I have a muscular body with long legs, a short shiny gray coat and floppy ears. I look intimidating but really am not at all. I LOVE to play! I guess that's what makes me so handsome and intriguing.
The scars on my side are from when I was a pup. I don't remember how I got them or where I was before the Humane Society but I know it probably wasn't from anything I want to remember.
No one knows where I came from but at 9 months old, I was sitting in my pen at the shelter and a couple came up to visit. I was just sitting there with my back faced towards the cage door trying to avoid the sound of all the other dogs barking. A girl put her hand up to the cage and I put my paw up to hers and embraced her fingers with my web feet in hopes a connection was made. They took me for a walk and then for a ride in the car to a house I now call home.
Not much bothers me, I am very independent and can handle any dish given to me with out a whimper. I never mess in the house no matter how long I am left. After all, its my home now too. We have to live in a clean environment so I respect that for it is my haven too.
Pretty much I have the run of the house. After all, my owners who rescued me from the humane society are ever so grateful to have me around to watch the house when they're gone to work or go out to eat so I am ever so grateful back. Mom likes to cuddle on the bed but dad doesn't like it. But when dads away, mom says ok and we cuddle.
I am a simple boy. I don't need much to be happy. I like going bye bye in the car, I love socks & I love affection. At bed time, I sigh and moan when I'm given bed time love.
Life is great! I love being a pit bull ! I am proud of my race ! I hate the way people can abuse us for their own personal gain - whatever that may be. To me, they need to be kept on chains.