Sparkle
by Angie
(McComb, MS USA)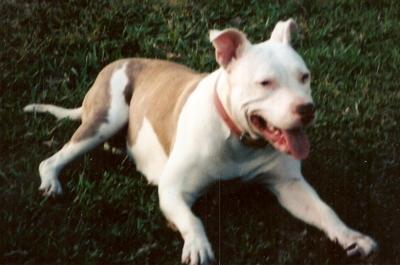 Sparkle 2007
We got Sparkle a little over 2 months old. She is now five. She is our sweetheart. Lovable and playful and a great mother. She has had one litter of puppies of which we kept 2 of her daughters. One of her daughters had a litter. She would run the daughter off and lay with the pups and nurse and clean them like they were her own.


We bought some baby chicks and had to keep them inside in a box for a couple weeks until they were old enough to transfer to an outside pen. We told her to be good to them and watch out for them. She watched over them and protected them.
Someone gave me a baby squirrel. She cleaned and watched over it. We found some kittens on the side of the road. Brought them home. I had to hand feed them. She would watch after them, lay with them, play with them and clean them.
We camped at our church one weekend. Some other campers brought their puppies. She had a fit and wanted to stay with the pups instead of us. Every time we lost sight of her she was trying to get to those pups.
I love watching Pit Boss on animal planet and love what he is doing to help. And I will say it over and over again. It is not the breed, it is the owner and trainer of ANY dog breed.
And if anyone has not watched the Michael Vick story, of all those dogs, they were all adopted out but two. They are a wonderful, smart, and eager to please breed and I am so glad I have the opportunity to own and raise them.
Return to Pitbull Pictures Archive September thru October 2010.
Are you enjoying this site? Finding it useful?
Your donation in any amount can help us reach out to more people
who want to know the truth about pit bulls.


Thank You for Your Support!

Return to Pit Bull Homepage