Tank and Rocket
by Jenna
(Tucson, AZ, USA )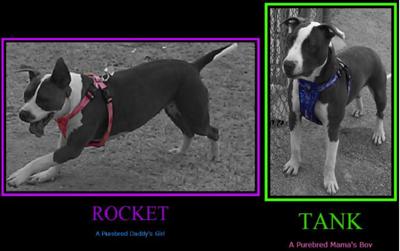 The story of Tank...


In June 2010 I had a miscarriage. I was a total wreck. I could not eat, I could not sleep, I couldn't do much of anything besides cry.
Well, my loving husband saw that I was at 'rock bottom' and decided that even though we were told we could not have a baby... that I still needed something to give my love to!
He told me that if I was up to it, to start doing some re-search and find a breed and a breeder that I would like to get a puppy from. I had so many breeds to choose from! But, I always like the 'under dog'. And after doing some research (real research not what the media posts) I found my breed! I decided I just had to have a American Pit Bull Terrier.
At the time, I was still a little leery of the breed. I figured it would be best to get one from a breeder, so I knew the history, parents, etc. I was not comfortable getting one from the pound. So, I found a very reasonable breeder and we went and I picked out the 'Biggest male' in the litter.
At the time that we were suppose to pick him up, at 8 weeks I had to have emergency surgery and had to postpone getting him until he was 4 months old. I talked to the breeder everyday, and he was telling me 'I'm a little hard on him, because he is the biggest'.
When the day finally came for me to get Tank... I was so happy! I had cleaned my house for him, went and bought him numerous toys, a bed, new leash, collar, etc. We went to pick him up... he was VERY shy! He sat on my lap and was shaking the whole way home. I just figured it was him not being used to a car.
We got him home after a three hour drive. He was tired, he went straight to sleep. By the time he woke up, my husband had went to work. He continued to be shy, but the 'clown' in him was starting to come out. He was playing with me, chewing on his bones.
Then my husband came home... as soon as he walked through the door Tank rolled over on his back, and peed himself! I was in shock! I had no idea what to do! I called the some other breeders and found out that the' breeder' I got him from was a no good scum bag! He beat all of his dogs! Then
I remembered him saying 'I was hardest on him, because he is the biggest male!'
I cried for two days straight, my poor baby had been abused! It was horrible! It took us four months for him NOT to freak out if a male came near him.
We went to classes regularly, run by a strong male figure. He is doing great now! At 11 months he is playing with all the males that come over, he is a total social butterfly! I had no idea you could love a dog as much as I love him.
Rocket's story
.
In december my husband decided he wanted a dog of his own. Although Tank now loved his daddy, he was a total mama's boy! My husband had no idea what type of dog he wanted. He decided after that horrible breeder experience we went through, and all the money we had to spend he was going to do the right thing and adopt from a pound!
My dream dog was a Blue Pit bull. I know they are no different, besides the coloring... but I do LOVE the coloring! The thought that there was going to be a blue pit bull at the pound... was not something i was counting on! However, we went down the isle and there she was! She was breathtaking! She had the EXACT same markings as Tank but instead of Red, her markings are blue!
We got a pound volunteer and tried to get some information! She had JUST been dropped off! She had been surrendered by a breeder who claimed as their 'top bitch' she was no longer producing show quality dogs! We HAD to have her!
We put her on 'hold' that night, and came back the next morning with Tank. As soon as he walked into the 'yard' area that she was waiting for him in... her butt went right up in the air and she wanted to play!!!! They played like they had been best friends forever!
She is the best dog I have ever seen. Although Tank IS my baby, and I LOVE him SO much, she is the biggest lap dog, so caring, and so sweet!
They are the best of friends and lay with each other on the futon that we bought for them! They love to go 'for a ride in the car!' and play 'rope' with each other! Tank still has a lot of puppy in him. But, she is only 2 years old, so they play quite well together!
I am completely in love with this breed. I cannot imagine a better dog.