Tank
by Tamara Combs
(Missouri)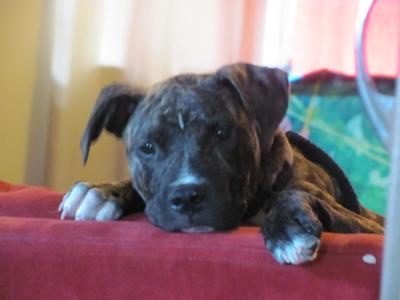 (Click thumbnail to see full size image.)
Tank is 4 months old. I adopted him from an animal shelter July 10, 2010. Best decision I have ever made.
I did not go looking for him, he found me. He is a gorgeous brindle pit mix. He is an extremely loving dog and is wonderful with my 1 1/2 year old little boy and 4 1/2 year old little girl. They love him!
Tank is my walking partner. I've got to have some way to get rid of some of that energy lol! He loves to walk, but he also loves to be lazy. His favorite place is right on the elbow of our three piece sectional, the corner is his spot.
Our other dog Chloe enjoys the company too! They get along so well. I love that Tank is such an affectionate dog. I really couldn't picture not having him with us. I am now and forever will be an advocate for the breed because pit bulls are just fantastic!
Return to Pitbull pictures archive August 2010.
Are you enjoying this site? Finding it useful?
Your donation in any amount can help us reach out to more people
who want to know the truth about pit bulls.


Thank You for Your Support!

Return to Pit Bull Homepage