the great red nose shark
by Savannah Nichols
(Medford, Oregon USA)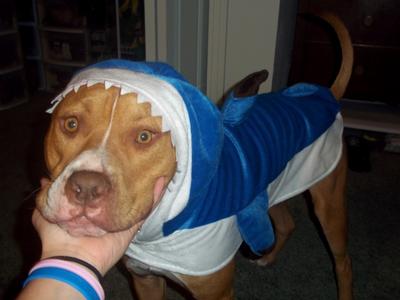 This is my red nose pit bull boy named Soldier. He was rescued from an abusive home that was training him to fight at 6 weeks old and I've had him ever since. He'll be a year old in November, and doesn't act a day over 4 months old.


My boy is constantly running around and playing with my other dog, I swear he has no end to his energy. He's a super sweet boy that loves to curl up in your lap if you let him. He hasn't met an animal or person that he doesn't like.
I picked a great white shark costume for him because he's the bigger of my two dogs and likes to stalk my cats (just to lick them to death) and he LOVES to swim.
I think my Soldier should win because he's the sweetest shark I've ever seen, and despite his rough beginning he's the sweetest dog I've ever had.
Are you enjoying this site? Finding it useful?
Your donation in any amount can help us reach out to more people
who want to know the truth about pit bulls.


Thank You for Your Support!

Return to Pit Bull Homepage