The most loving, spoiled sweetheart in the whole world....princess Kiya 💗👑
by Alyssa
(Oroville ca)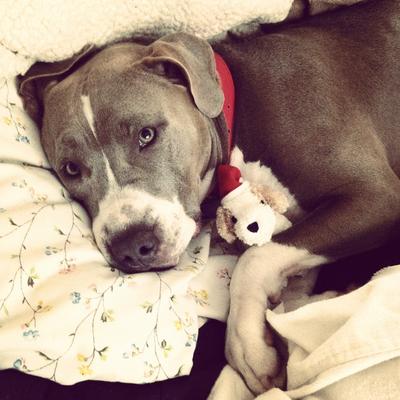 Little sweetheart
Kiya (pronounced k-Y-A or K-Y-A-H) is a purebred blue nosed pitbull princess! I chose her name because it means "diamonds in the sky" and I wanted something to go along with her being a blue nose.


She is 11 months old. She is the most loving dog in the whole world and my fiancé and I just adore her! We got her when she only 4 weeks old and bottle fed her throughout the night every 2 hours!
You can see just how attached she is to us as we are to her. I think that explains why she nurses on a blanket every time she falls asleep. It's so adorable.
She always has to sleep on the bed with us even though she has two giant ones of her own! :) And she has to have her head on our pillow and under the covers. She is a total diva.
She loves to play outside and do tricks she learned from her puppy school. She is very smart and working on being more obedient but is still a puppy.
On the morning of her 7th month birthday she was intentionally ran over and left in a gravel ditch on the side of the road to die. Thankfully I found her before it was too late. She had a complete broken femur and some internal bleeding which caused blood to get into her lungs and we almost lost her. But the vet was amazing and kept her breathing. :)
She has had two surgeries on her left back leg and the metal pins are finally out and the bone is healed. She still has scars from her gashes and burns but she is still the most gorgeous dog I know.
After all that trauma she is still the most loving happy dog there is! You wouldn't even know she was ever ran over cause she has the most amazing joyful personality! Whenever I'm sad or angry I can't help but smile when I see her.
She always has a great big crazy welcoming when I get home and will give me tons of kisses. I love Kiya like she is my baby and I will protect and always care, and spoil her forever.
I know what people say about pitbulls being aggressive and honestly I have never met a mean or aggressive pitbull. The people who say that need to realize the dog is the way their owner made them! They did not get mean overnight. Kiya is so friendly and would never even hurt a fly! I've seen her play with one haha! :)
Long story short, my fiancé and I adore Kiya and I hope to have her in our lives for many more years :)