The World's First Anti-depressant PUPPY--Zoloft!
by Jason Beer and Wendy Ann Sperling
(Escondido, CA, USA)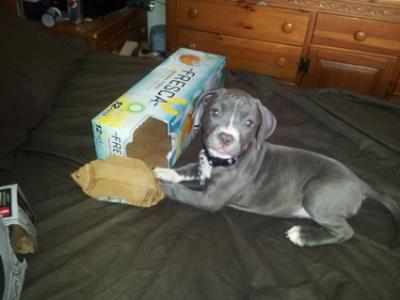 Got the blues? Get some Zoloft!! No unpleasant side effects! Just happiness, cuddles, love, and PUPPY KISSES!!! Cures depression instantly and can safely be taken daily on a long-term basis.


We got the idea for our invention because Zoloft pills are blue. They are prescribed for people experiencing the blues. And Zoloft IS blue--a Blue Nosed Pit Bull. Too perfect. Who wouldn't rather have a cuddly puppy over a yucky pill?
We found her in a litter advertised on www.craigslist.com. They wanted $100 and the ad said "Must go today!" We looked at each other and wondered: what would happen to the pups who did not "go today"? No doubt about it, we HAD to go and get her.
Zoey, as we call her, is six months old now. She is going though puppy adolescence. She had decided she must run from bath time, should not swallow her pills, and will NEVER pick up a tennis ball with grass on it.
She has a persistent rash that her vet says is likely due to immune system deficiencies common in Blue Nose APBTs. We call her the world's itchiest puppy. Three baths a week with medicated shampoo seem to help a great deal. She gets pretty smelly between baths, so we don't often forget.
Zoey loves her cuddle time and is happiest laying on the couch between her human mommy and daddy. She fetches with great enthusiasm (as long as the ball never lands in the grass) and rolls over on command. She earns high marks in her puppy kindergarten classes and always plays well with others. We plan to have her certified as a Canine Good Citizen.
Zoey's best friend is our old Black Lab, Fred. He loves to play with his new little buddy. Because he is so much bigger, he can just stand there with a rope toy in his mouth while Zoey tugs, twists, and growls. She just can't shake it lose. Not yet, anyway. Once she's full grown, look out, Fred!
We can't wait to see what Zoey will look like full grown. But we are really enjoying her puppyhood. She is just such a wonderful, loving, happy animal. Long live our baby, Zoloft Effexor Wellbutrin!