This is my baby Thor..
by Leanne K
(Pittsburgh, PA)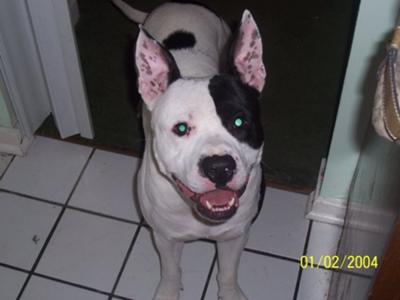 This is my baby Thor. He is approx 3 years old now. He is our rescue dog. My fiance' found him running wild when he was roughly 6 months old. He was completely emaciated! We could literally count every bone in his body.


When we got him home, we gave him food and a bath. I don't think I have ever seen a dog more appreciative of anything!! We took him to the vet that day to make sure he was "healthy." We were told that he just needed food and water and he should make it. We were asked to keep him as a foster dog until they found his owner or a good home for him since he was found running loose. We knew this was going to be a long and struggling journey but we agreed.
We took him to our home and immediately he became a part of our family. He quickly took over our hearts(and our bed at night!) After a few weeks of food, water, love and constant vet visits to make sure he was getting his health back, the vets office informed us that they found a permanent home for "Thor." I agreed to let the new owners come to my home and see him.
I was a wreck, bawling my eyes out! When they took him out the door, I felt like someone had just ripped my heart out of my chest! The next day, I called the new owners and begged them to bring "my" dog back. I explained that he took a spot in my heart that was now just an empty space. I cried the whole night he was gone. They reluctantly agreed. I thought I had hit the lottery!! My baby boy was coming back home!!
Since then, Thor has never been away from us. He's grown in our hearts more and more everyday. He loves his walks and his soccer ball is his favorite toy. Even though there is barely any room in my bed at night, I wouldn't trade Thor for the world!!
Return to Pitbull Pictures Archive September thru October 2010.
Are you enjoying this site? Finding it useful?
Your donation in any amount can help us reach out to more people
who want to know the truth about pit bulls.


Thank You for Your Support!

Return to Pit Bull Homepage