Trooper the red nose bully baby
by Zane
(Lebanon OR)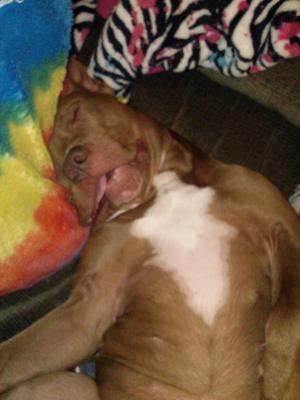 I got Trooper when he was about 1 and a half years old. I'm 16 so this was my first dog. I always loved pits and the bull breed altogether.
Trooper was abused by his previous owner so he is afraid of other males but I have since fixed that. He is my buddy and I hope you all enjoy his cuteness as much as I do!!
He sleeps in my bed with me always and has never showed any type of aggressive behavior. He is an American Red Nose( pure breed) enjoy!
Are you enjoying this site? Finding it useful?
Your donation in any amount can help us reach out to more people
who want to know the truth about pit bulls.


Thank You for Your Support!

Return to Pit Bull Homepage