Turbo
by Steph
(BC, Canada)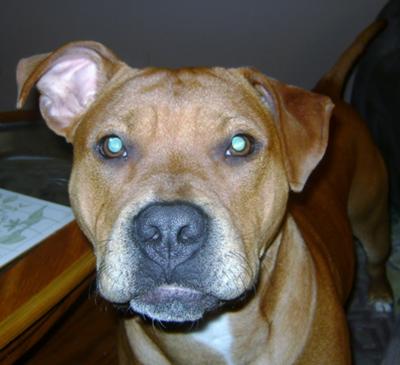 Turbo is just over a year old, and suits his name to a tee - he is always on the move. We have had him since he was a pup.


Turbo has such a unique personality. He loves going to the dog park and burning up and down the trails. He loves his stuffed animals (or at least ripping all the stuffing out of them), and he absolutely loves peanut butter...if he drops his kong in your lap, you know what he wants.
Turbs is exceptionally friendly, and just wants to say hello to everyone he meets. And despite the fact that he weighs over 70 lbs., he still thinks he is a lap dog!
Return to Pitbull Pictures Archive November to December 2010.
Are you enjoying this site? Finding it useful?
Your donation in any amount can help us reach out to more people
who want to know the truth about pit bulls.


Thank You for Your Support!

Return to Pit Bull Homepage