Wonderful, Sweet, Loyal, and Loving.... Chassis Belle
by Crystal-Marie
(Winfield, Kansas)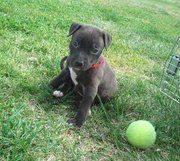 8 Weeks Old
Chassis Belle was born February 27th 2011. For her mother Bella, and Her father Blade, this would be their last litter.


Number 12 out of 12, Chassis was born in the early hours of the morning, almost immediately following a still born brother, number 11. A few days ago was Chassis' first birthday.
In this past year a lot has changed in my world and Chassis'. Chassis has worked on obedience training, and learned some new tricks. She does the basics, along with some fun ones like, "wait" "speak" "whisper". She will fetch, or get her ball on command.
She even moved 1200 miles across the U.S. Every day she plays with her "kid" my 4 year old daughter. They are like 2 peas in a pod, I swear. I can tell Chassis, "go play with your kid" and she will run off to find my daughter.
Chassis loves to cuddle, in fact she thinks she's a lap dog. She will try to climb up on my lap, sometimes I am not even sitting and she's trying to be on top of me.
I get followed around all day, at least until my husband gets home. Chassis get so excited when she hears his car pull up. Tail wagging, at the door whining
She has almost become a minor celebrity in the small town we moved to this year. During the day I take Chassis with my daughter and I when we run errands, hit the drive thru's, or what ever we are doing that is dog friendly.
I don't think there is a clerk in this town that doesn't know her. Many of the drive thru's have taken to keeping dog cookies behind the counter for when we come by. In fact, any time we go to Sonic, Chassis and my daughter get free ice cream.
At night, Chassis roams around the house. Room to room "checking" on us. More than enough times I have been awakened by a cold wet nose poking me, and a look that says "just making sure you're OK mom."
She is more than a sweet heart, She's our doggy soul mate. As gentile and loving as she is, I know she would lay down her life to protect us.