Xena...our warrior princess
by Danette N
(Ohio)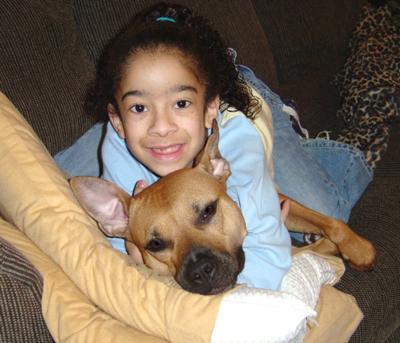 my 2 favorite girls
We don't really know where she came from..she was dumped in the back of a vet clinic where I happened to be applying for a job at the time 9 years ago. As I walked in for my interview, she came running from the back and it was love at first sight.


I took her home temporarily to see how she would do, well...all it took was the car ride home and it was already decided..she was a member of our family..She stole our hearts that quickly.
She lacked no manners and loved to jump on people and run wild..and she would bolt for the front door any chance she got. Well, unfortunately one day, she bolted when family was visiting and took off. We looked for her and couldn't find her...about 20 minutes later she came home, but something was wrong..she went straight into her crate. She had been hit by a car and suffered major tissue damage.
After many weeks of doctoring her, her skin began to heal, but she still has the scars. She hasn't taken off running after that incident. All during the time I had to put medication on her wounds and wash them...she never yelped or snarled, she would look at me with those sweet bully eyes as if to say she knew I was doing this because I loved her.
She has been a member of our family for almost 10 years now and she is my daughter with 4 legs. We love her so much and cannot imagine life without her in it. She is so friendly and loving and wants nothing more than to be by your side and give you kisses.
She has been responsible for my "slight" obsession with the bully breeds and I will forever stand up for them because they deserve that much..
Return to Pitbull Pictures Archive September thru October 2010.
Are you enjoying this site? Finding it useful?
Your donation in any amount can help us reach out to more people
who want to know the truth about pit bulls.


Thank You for Your Support!

Return to Pit Bull Homepage